Hej fina ni!
Ni kanske kan av bilden att döma se att jag är ganska glad idag? Mitt intensiva pass på gymmet idag var sjukt jobbigt. Nu när jag inte får använda vikter så gäller det att vara kreativ och komma på bra pass som inte kräver att jag använder någon extra vikt men samtidigt är bra träning som jag känner att jag får ut något från.
Idag bestämde jag mig för att köra 30 intensiva minuter på trappmaskinen för att dels jobba med flåset (konditionen) men samtidigt ge min lilla rumpa en omgång. Och det ska jag säga att jag fick! Jag var så andfådd att jag knappt kunde prata på flera minuter efter detta och min rumpa var ordentligt trött och jag tror på definitiv träningsvärk imorgon!
---
Hello, you guys!
Maybe you can judge by the picture that I'm pretty happy today? My intensive session at the gym today was great. Now that I can not use weights, it's a matter of being creative to get a good session which does not require me to use extra weight, but at the same time I'm doing a good exercise that I feel I'm getting something from.
Today, I decided to do 20 intensive minutes on the stair machine to work with my fitness but at the same time give my little booty a challenge. And I'll say I got it! I was so tired after this that I could barely speak for several minutes after this and my butt was really tired and I believe in a really sore butt tomorrow!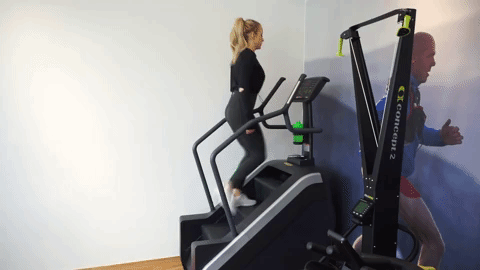 Börja med att gå i trappan i ett bra tempo. Jag gick på nivå 14 här. (Max är 25). Detta blir som uppvärmning inför resterande övningar.
Tid: 10 minuter
---
Start by walking the stairs at a good pace. I walked at level 14 here. (Max is 25). This will be the warm up for the remaining exercises.
Time: 10 minutes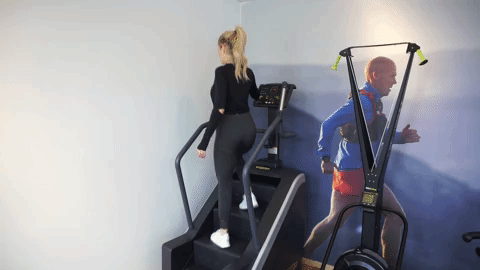 Nu går vi över till att gå "sido gång". Vi börjar med att gå på vänster sida och sedan höger.
Tid: 2 minuter på vardera sida.
---
Lateral walk. Start with the left side and then cahnge to the right side.
Time: 2 minutes on each side.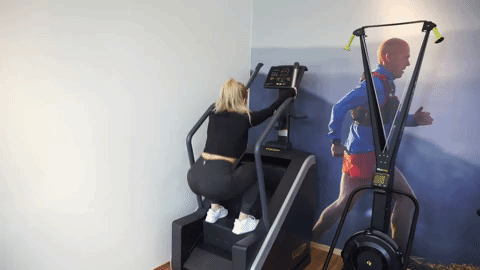 Jämfota hopp. Här sänker jag hastigheten till 12. Är det för fort så sänker ni ännu mer, man vill inte råka trilla av trappan för att man har för brottom.
Tid: 2 minuter
---
Squat jumps. Here i lower the speed to level 12. If that is too fast lower it even more, you dont want to fall off the star machine because you are going to fast.
Time: 2 minutes
Dubbelsteg med kick back. Här höjer jag jag hastigheten till 14 igen. Jag vill återigen påpeka att du ska välja den hastigheten som du känner att du klarar, vill du ha högre eller lägre hastighet så kör du på det.
Tid:  2 minuter
---
Dubble step with leg extension. Here Im increasing the speed til level 14 again. I want to point out that you should choose the speed you feel you can handle, if you want higher or lower speed, you'll go for that.
Time: 2 minutes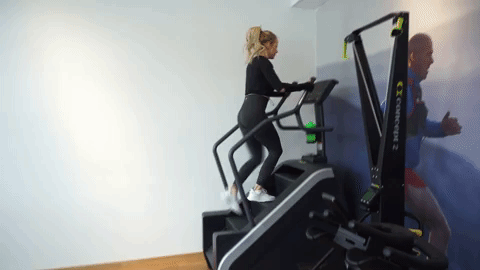 Som sista övning höjer jag hastigheten ordentligt och springer i trappan!
Tid: 2 minuter.
Sen kan man bestämma om man tycker att det räcker med ett varv eller 2. Jag körde två och då slutar det här passet på totalt 30 minuter och jag var HELT slut efter detta. Egentligen var jag helt slut redan efter första varvet. 😉
---
As the last exercise I increase the speed and run!!
Time: 2 minutes
Then you can decide if you think it's enough with doing this once or 2. I did this twice and then this session ends in a total of 30 minutes and I was DEAD after this. Actually, I was completely out after the first yard too. 😉